SELIGMAN SCHOOL SYSTEM VISIT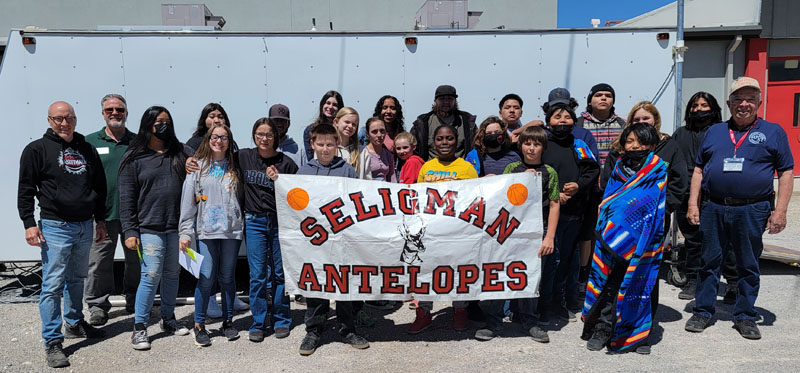 The NADXA enjoyed two days at Seligman School on May 3rd & 4th teaching students about Amateur Radio. Members Dave W7FYW, Jack NT7MM,
Larry WB7EUJ, Mike AG7XQ, Mike KD7RF (operating from Alabama), and Bob NF7E participated. We had 6th, 7th, 8th graders and Sophomores,
Juniors and Seniors in the class room and then on the radio in our club trailer. Teacher extraordinaire, Denny Preisser, visited us at Lowell Observatory
in February, during our Pluto Special event, and saw the potential of us using our club communication trailer to introduce Ham radio to his 70+ students
so he asked us if we could come to Seligman. After stringing up a 10M dipole inside the classroom, Larry and Mike taught each class radio basics and then
talked about morse code and how that is used. Each student would send their name in morse code using a telegraph key and code oscillator. Then the
students went out to the club trailer and Jack and Bob explained the fundamentals of sideband operations and then had each one call CQ. NADXA
member Mike who now lives in Alabama was waiting to answer them! Students were told Mike was not in Arizona, but was located somewhere in the
USA and they had to ask him questions to figure out where he was located. Students asked questions like; are you close to the ocean, the desert,
mountains, Canada, Mexico to narrow down his location. The process worked great and the students wanted to ask questions. Every class was able to
figure it out! Then Mike spent time talking to the students about Alabama, his work at the National Weather Service and more! Mike was a BIG PART
of the day's success, and we had an outstanding group of club members to make things like this happen! We also got to enjoy lunch at school cafeteria
and Seligman's famous Road Kill Cafe !