FIELD DAY 2011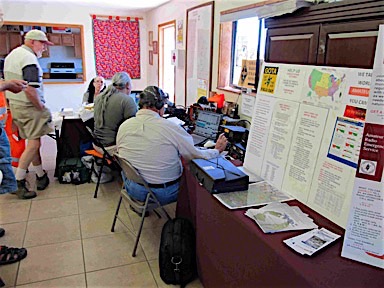 GOTA Station and Public Information Table
Field Day 2011 was once again a joint operation with the Coconino Amateur Radio Club.   We  operated from Fire Station 33 on north HWY 89.  We  operated
class 2A with NADXA in charge of the CW and SSB stations on HF.  CARC was in charge of the GOTA station and the VHF stations. This year a goal of
6500 points was set, which bested our previous high score of 6370.   After the results were in, we not only beat our goal but beat it in grand style!!!   We had a final
score of 7364 points!!  Congratulations to everyone who participated. There were a total of 1125 cw contacts and 887 phone contacts, both major improvements
to prior totals.  That is a total of 2012 total QSOs which bested our previous high of 1728, set in 2000. There were a total of 1090 bonus points. We set up
stations with beams and wire antennas with optimum spacing between stations.  Interference was virtually nil.  Operators signed up for operating time slots,
resulting in virtually no dead time on any transmitter during the whole FD period. AA7DK was the SSB station captain and NN7D was the CW station captain. 
KY7A manned the GOTA station and W7LUX was the VHF station captain.  Great job by each one!
We finished up winning the state of Arizona in Class 2A and were 7th in the Southwestern Division.
| | |
| --- | --- |
| AA7DK hard at work on 20M SSB | W7YS digging out contacts at the CW station |
| SSB Trailer and beam | VHF Trailer |