The February inaugural event was a smashing success!!! 7258 contacts with 131 DX entities.
Due to to heavy demand from those not able to get through, we're putting on a last chance
to get in on the inagural year.
For three days, Friday August 6th at 0001 UTC through Sunday August 8th at 2400 UTC, the NADXA
will be on the air making 2021 W7P contacts.
Activating stations will be self-spotting on dxsummit.fi
NADXA on tour in the Pluto Dome.

Hallicrafters S-38 Shortwave Receiver
used by Tombaugh for time signal.
Still kept in the Pluto Dome.
---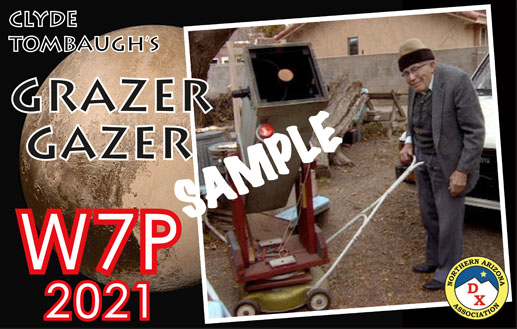 Year One of the 100th Anniversary Special Event is Complete
91st Anniversary 13-21 February, 2021
The inagural year of the 10-year countdown was a major success. 7,258 QSOs with 131 DX entities and 20,300 hits on QRZ.com!!!
A special thanks to the Operators

W7P

: KD7RF, AG7XQ, W2OR, WB7EUJ, NN7A, N7SMD, N7JOE, W4BH, KG7OH, KR7RF, and NF7E.


W7P/0

: N3PDT, NZ0F, N0CVW, and AD0AB
During the event W7P completed WAS and 131 DX Entities

| | | | |
| --- | --- | --- | --- |
| Alaska | Croatia | Indonesia | Puerto Rico |
| Albania | Cuba | Ireland | Republic of Korea |
| Ageria | Curacao | Israel | Republic of South Sudan |
| American Samoa | Cyprus | Italy | Reunion Island |
| Anguilla | Czech Republic | Jamaica | Romania |
| Argentina | Denmark | Japan | San Andres and Providencia |
| Aruba | Dodecanese | Jersey | Sardinia |
| Ascension Island | Dominica | Kenya | Saudi Arabia |
| Asiatic Russia | Dominican Republic | Kuwaite | Scotland |
| Australia | Ecuador | Lebanon | Serbia |
| Austria | El Salvador | Lithuania | Seychelles |
| Azores | England | Luxembourg | Slovak Republic |
| Bahamas | Estonia | Macedonia | Slovenia |
| Balearic Island | European Russia | Madeira Island | South Africa |
| Barbados | Falkland Island | Malawi | Spain |
| Belgium | Faroe Island | Mali | St Helena |
| Belize | Federal Republic of Germany | Martinique | St Lucia |
| Bolivia | Fiji | Mauritius | Suriname |
| Bonaire | Finland | Mexico | Sweden |
| Bosnia-Herzegovina | France | Moldova | Switzerland |
| Brazil | Gabon | Morocco | Taiwan |
| Bulgaria | Ghana | Netherlands | Trinidad and Tabago |
| Canada | Gibraltar | New Caledonia | Turkey |
| Canary Island | Greece | New Zealand | Turks and Caicos |
| Cape Verde | Greenland | North Macedonia | Ukraine |
| Cayman Islands | Guadaloupe | Northern Ireland | Uraguay |
| Ceuta & Melilla | Guam | Norway | United States of America |
| Chad | Guatamala | Oman | US Virgin Islands |
| Chile | Guernsey | Panama | Venzuela |
| China | Hawaii | Paraguay | Wales |
| Columbia | Hong Kong | Peru | Western Sahara |
| Corsica | Hungary | Poland | Zambia |
| Costa Rica | Iceland | Portugal | |